LibrerX is a wooden bookcase with a strong formal design and excellent sturdiness provided by a crossed load-bearing structure.
This supporting "X" structure, allows, by interlocking, the alternating succession of the upright supports and shelves that make up the bookcase. The upright supports, which also act as bookends, are connected to the "X" structure by an interlocking joint system whilst the shelves are assembled by attaching them to the uprights themselves secured by dowel pins.
This construction system with interlocking joints and dowels allows ease and fast installation. The contrast between the white lacquered "X" shaped structure and the natural Elm finished shelves and uprights gives much elegance to a product characterised by the formal design. In addition, a touch of technology has been applied into one of the shelves where an empty pocket tray in Corian sits next to a wireless charging system for your Smartphone, and an LED Strip Light has been placed on the top of this Bookcase, which gives off an ambient light and atmosphere reflected on to the ceiling.
Andrea Casati Design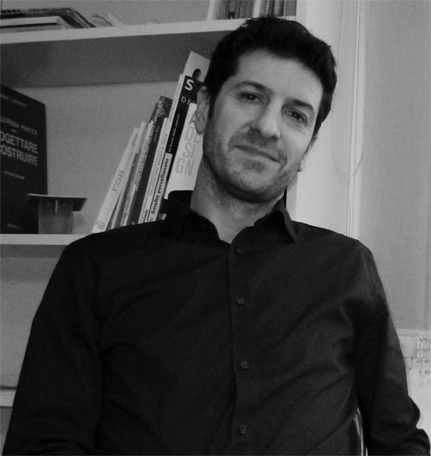 Laureato alla Facoltà di Design del Politecnico di Milano nel 2001, svolge alcune brevi esperienze in studi di architettura design e grafica fino ad approdare nel 2003 allo Studio D'Urbino Lomazzi.
Qui affina capacità e competenze progettuali nel campo dell'arredamento, del complemento d'arredo e del prodotto di design; tuttora collabora con lo studio come consulente esterno.
Nel 2006 dà vita allo studio ANDREA CASATI DESIGN con il quale comincia una proficua collaborazione con aziende importanti del panorama italiano ed estero nel campo dell'arredo, del fai da te e dell'elettronica.
Riconoscimenti
Selezionato dall'azienda Brusadelli Giovanni nel primo concorso Brianza Design Exibition con il tavolo Cua de Rundìn poi premiato come miglior prodotto tra quelli realizzati;
Selezionato con il progetto di tavolo Lambro nel contest "Essential: ridotto all osso" indetto da Formabilio;
Selezionato con il progetto "Castello di carte" (serie di tavoli e tavolini in marmo e legno) a seguito del Workshop "THE B-SIDE" in collaborazione con Persiceto Marmi;
Il Progetto "Joint" viene selezionato a seguito di "Make More" primo contest firmato Veneta Cucine in collaborazione con Make Tank;
Lampada FLORA partecipa alla mostra "designOFFsite" tenutasi nel palazzo del SIAM in via S. Marta a Milano.